Marthea Grech is the President of MaltMUN. She joined MaltMUN in 2021 as the Events Officer. This experience was extraordinary as not only did she improve her organisational and networking skills but also expand her love for debate. The next phase in this journey was to be elected as the Society President. She is beyond humbled to have been chosen to perform such a role. She is aware that she has big shoes to fill, but is nonetheless excited to make the most out of her presidency and continue to see the organisation prosper. Her past debating experience includes the Mini European Assembly 2019/20, Mini European Parliament 2021, Mannheim Model United Nations 2022 and Malta Model United Nations 2022 where she got the award of Best Delegate. She is currently reading law at the University of Malta and is aspiring to become an advocate.
Briana is a Bachelor of European Studies graduate who previously served as MaltMUN's Conference Manager last term. Naturally harbouring an interest in international affairs and politics, MaltMUN seemed like the perfect organisation to nurture that. She has attended numerous MUN conferences locally and abroad, having recently chaired UNHRC in MaMUN 2022, Germany, and UN Women in PolMUN 2022, Poland. These experiences have highlighted the ever-growing importance of diplomacy in the international community and of fostering excellence in today's youth.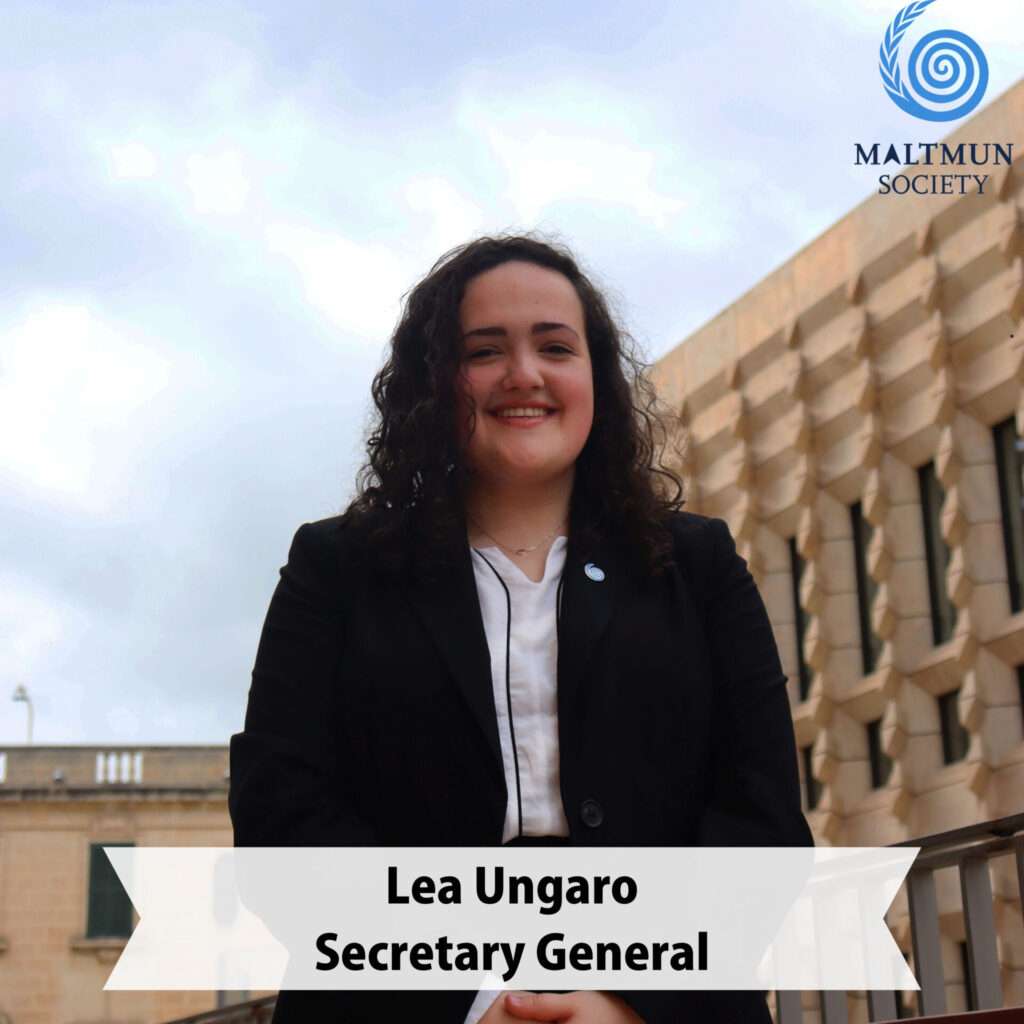 Lea Ungaro is the Secretary General of MaltMUN. Having an interest in politics, international affairs, debate, and discussion, she became a member of MaltMUN in 2021. After having attended the events organised by the society, participated in various simulations and showed great commitment, she was given the opportunity to be elected as Secretary General for the term 2022-2023. She believes that the organisation's commitment to foster excellence in its members by investing in both their personal development and their education truly makes it a special one. Her past experience in debate includes the National Youth Parliament 2017 and 2018, as well as the Malta Model United Nations 2022. She is currently reading for a B.A. Hons in Law at the University of Malta and aspires to become an advocate specialising in family law.
MaltMUN, having at its core the fostering of skills vital for any democratic society, provides a fruitful learning experience for all those involved. It is for this principal reason that Sarah is beyond grateful for being selected as this year's Financial Officer.
She is confident that, through her academic background as well as her strong work ethic, she will be able to bring about new initiatives so as to yield greater results for MaltMUN.
Sarah is currently reading for a Bachelors of Laws (L.L.B Hons) course and is also passionate about teaching English as a foreign language.
MaltMUN was an unexpected but fruitful experience for Nicholas; his first MUN was the 2021 MaltMUn and after participating in the 2022 MaMUN, he grew to appreciate all the work and passion that goes into organising these simulations. He is honoured to be part of this society and more so with his responsibility of organising MaltMUN's next annual conference and continuing the great legacy of this society and its mission to foster excellence.
Deputy Conference



Manager
Giulia's participation in MaltMUN has strengthened her passion for international affairs as well as allowed her to cultivate several skills.  Having already served the organisation for a year as a Logistics Officer, as well as having gathered experience from her attendance in several international MUNs, she believes she has more to offer the organisation in the form of Deputy Conference Manager, and aims to better our own conference with the help of the Conference Manager. She looks forward to the year ahead and is excited for our members to see what is in store for them
Zoë Cauchi is the events officer of MaltMUN. After attending the MiniMUN organised by MaltMUN in December of 2022, she became more interested in the functions behind this organisation. Being new to the organisation, she wishes to bring fresh ideas and create events that will continue to push the society forward.
She participated in the 2022 Model European Parliament and has always had an interest in debates and discussions. She is currently reading for a B.A. Hons in Law at the University of Malta and aspires to continue studying and learning about international affairs and human rights.
Jacob Callus is a youth activist, and is currently serving as Academic Officer of MaltMUN. He has graduated from the University of Malta in 2020 after having read for a B.A. Hons in International Relations, and in 2021 after having read for an M.A. in European Politics, Economics and Law.  He is also currently serving as the Advocacy Officer of the Malta National Youth Council (KNŻ- Kunsill Nazzjonali Taż-Żgħażagħ) and as Social Policy Officer of the University of Malta Rowing Club (UM Rowing). His interests include politics, history, current affairs and the news amongst others.
Mathea is a first class Theatre Studies with Communication Studies graduate. Her interest in being the organisation's PRO stems from her love of media, art, and design, and in fact she has recently started a job as a Graphic Design Studio Administrator. She also manages and markets her own professional blog and online books. 
Apart from having an interest and experience within the media sector, Mathea also has a huge passion for public speaking, speech writing, public policy, and EU affairs. 
For the past five years she has involved herself in numerous public speaking and debating events including representing Malta in the Model European Parliament held in Madrid 2018 and mentoring the 2019 and 2020 Maltese selections, as well as participating in Euroscola, the Integrated Democratic Europe Simulation, three youth forums organised by KNZ, and representing Junior College in the English Speaking Union's European Debate Academy, for which she won second place.
Marelaine Formosa is MaltMUN's International Officer; a student with activism, knowledge, and law at heart. Her previous experiences as Education and International Coordinator, and President at the University Students of Performing Arts Association, as well as Public Relations Officer at Ghaqda Studenti tal-Ligi, have led her ambitions and determination forward to help the student in any way she could. MaltMUN will now proceed to make this possible, while giving her the duty to help foster excellence in other youths by taking students abroad, and welcoming others in our small yet influential island. Ultimately, the Society will not only be a way for her to develop her skills, but also another fundamental step for her prospective career.